Custom Mosaic Designs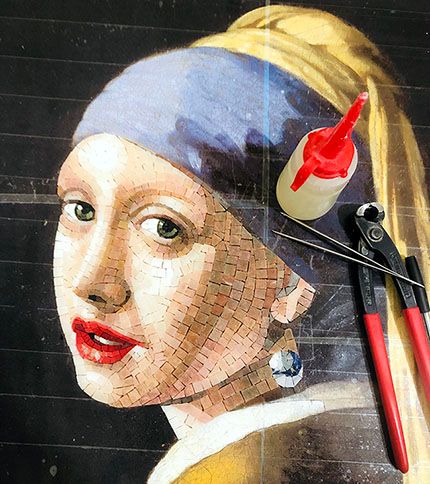 Custom work & reproduction of "Girl with a Pearl Earring"
Customize Your Mosaic
Make your project a one-of-a-kind by customizing your mosaic design.
Have you ever wondered what your favorite picture would look like as a mosaic? Have you fallen in love with one of our unique designs but wish you could change some of the colors? Our customization option is available to meet all your artistic desires. Whether you wish to create a new mosaic from scratch or you want to repurpose one of our existing mosaic designs by adjusting the size or selecting a different colors, we are here to turn your ideas into a reality.
Our mosaic artisans are skilled at transforming mosaics and can skillfully transform your whatever on your mind into an unparalleled work of art. Whether you seek to personalize a piece from our catalog or draw inspiration from a picture or nature, our team of designers are here to create the handmade, custom mosaic of your dreams.
Follow the link to fill and submit the form Customize and build your own mosaic, or contact us directly to discuss your customization needs and we will be more than happy to assist you.