Custom Mosaics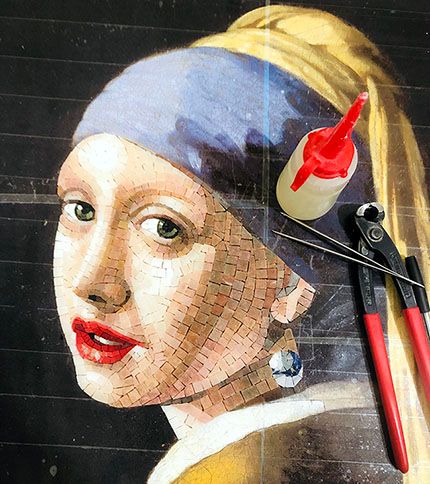 "Girl with a Pearl Earring" custom mosaic in progress
Ordering a Custom Mosaic
At Mosaic Natural, we are proud to have a wide selection of curated mosaics. We take pride in our designs and how we present them to you. While we have many designs from which to choose, we can also offer you a one-of-a-kind customized art piece.
Our talented artisans can create customized mosaics for your unique needs and specifications.
Customized mosaics make incredible gifts and elegant home decor. You can order a customized mosaic to celebrate a loved one or commemorate a moment in time.
Custom mosaics can also elevate the identity of your business. Regardless of your reason for wanting a personalized work of art, our artists can deliver an exceptional mosaic and memorable experience.
Tell Us About Your Project
To create your custom mosaic, you must fill out the customization form. The form will tell us at Mosaic Natural about you and your product needs. With this form, we can get a sense of what you want so that we can build the right mosaic for you.
Be sure to include your current contact details. Adding these details is crucial as the mosaic customization will be an ongoing effort, so we will update you along the way. We will also contact you should we need more information from you.
You will attach a picture you wish to recreate in stunning mosaic form. Photos with high resolution will be the easiest to reproduce, especially for larger pieces. You can include an actual photograph, a graphic or digital art print like a logo, or even a picture of a work you wish to have recreated.
After you've added your photo, you will specify your desired dimensions. If you have any questions about your needed measurements, do not hesitate to contact us or make a note within your comments.
Lastly, tell us about your project as a whole. You can tell us things like the room where you want to install your custom mosaic. You can mention your current interior design scheme, your color palette, and your spatial needs as well. Anything you think we should know, tell us! There are many uses for a customized mosaic, and we want to create something for you that will suit your needs.
Add Customized Artistry to Your Home
Whether redesigning a space or creating a new interior layout and ambiance, adding artwork is always a beautiful and effective choice. Incorporating artwork into your space adds value and visual interest. Often, art can unite the colors or design elements within a room.
A customized work of art, like our custom mosaics, can not only offer value, interest, and color to a space, but it can add the specific design elements that you want to use within your home. By creating a mosaic with us, you can achieve the design scheme you've dreamed about and cultivate the ambiance you desire.
We can customize your mosaic to complement your vision.
Send a One-of-a-Kind Gift to a Loved One
Custom artwork makes for thoughtful and creative gift-giving. Our expertly crafted mosaics are exquisite gifts that will impress and inspire anyone in your life.
These handcrafted works of art are as resilient as they are beautiful. Each mosaic is made with tiles that are resistant to stains, scratches, and water. When you give a loved one a mosaic from Mosaic Natural, you ensure that they will have a long-lasting piece to display wherever they choose.
Custom mosaics make excellent gifts to commemorate a person, event, or moment in time. They can be photorealistic representations of those events, abstract depictions, and everything in between. We can replicate many compositions, including, but not limited to, photographs, paintings, and digital art designs. With our custom mosaics, you can deliver a specialized gift that will not only impress your recipient but will add artistic value to their spaces as well.
Transform Your Business
While custom mosaics make lovely art pieces for the home and delightful gifts, they can also elevate your business. Our customized works of art can not only decorate a lobby, waiting room, or office with spectacular artistry, but they can help form your unique brand identity.
A customized mosaic from Mosaic Natural will bring visual interest to your business and its interior design. Guests will enjoy the ornate detailing and skilled artisanship shown by our talented designers. Creating a brand or office-centric mosaic can further develop a sense of appreciation and fondness between customers or clients and your business. Cultivate the ambiance that will resonate with clients and keep them interested in your company.
There are many ways that we can customize a mosaic for a business. In addition to recreating any work of art, we can work with you to develop a splendid representation of your business. We can create mosaics of many dimensions to meet your unique needs. Mosaic Natural understands your commitment to presenting your company as intended.
We can create a sprawling backdrop with your company's logo to go behind a visitor's counter. Guests will walk up, marveling at the vivid display. Or, we can create multiple pieces that will work together to create the ambiance you wish to curate for your business. These pieces can be aesthetic-themed pieces that will blend in with your decor, or they can be made using your own branded designs.
You can use brand or company-associated colors or create an area with a rich color palette that invites and engages clients and consumers. Our mosaics will give your interior design the edge and elevation your business needs to set itself apart.
Enjoy Custom Mosaics For Years to Come
Our customized mosaics are resilient and will elevate any home or business well into the future. By ordering one of our pieces, you ensure that you, your business, or your loved one will have an elegant piece of art that will last the tests of time and inspire all who see it.
So, when you're ready, contact us using the custom mosaic form. We cannot wait to help you create a one-of-a-kind piece of art.